Carbon fiber has long been the preferred material in industries such as automotive and sports, thanks to its strength, lightness and aesthetic appearance. In this context, our collaboration with IXO, a company specializing in the manufacture of luxury composite parts and official partner of the Bugatti brand, is particularly relevant.
Carbon Fiber for Cars: High Tech and Luxury
In the exciting world of luxury supercars, every detail counts. Leading brands such as Bugatti strive to offer products of the highest quality and exceptional performance, so it is no coincidence that the IXO company is behind many of their projects.
In recent years, IXO has become synonymous with style, performance and exclusivity, the result of its meticulous work and its minimalist philosophy of "less is more". All the pieces that it brings to the market are recognized as true works of art and are the result of combining the best materials with the most dedicated craftsmanship.
"We use all the resources that are at our disposal: all our enthusiasm, our soul, the countless hours of teamwork working side by side… looking for perfection in every detail," says Pedro Sánchez, general manager of IXO. "The carbon fiber finish on all our products is customized. With the artisanal work of the team, we ensure the consistency of each piece created in the workshop. A process that can take up to 30 days."
Bugatti brand vehicles are a good example of how they get the most out of their capabilities when working with carbon fiber. Exceptional products that combine elegance and functionality. From rear spoilers to mirror housings and front splitters. Each piece is designed to provide improved aerodynamics and a sleek look.
Why do you work with carbon fiber?
Carbon fiber is a composite material, made from extremely thin strands of carbon, which are intertwined and reinforced with a special resin. This manufacturing process results in a strong, lightweight structure that outperforms other materials in terms of strength and rigidity. Furthermore, carbon fiber is highly resistant to corrosion and has an excellent strength-to-weight ratio.
Carbon fiber beyond cars
Every piece that comes out of IXO is known for its impeccable design and meticulous attention to detail, whether we're talking cars, pool tables or bottles of champagne.
One of his latest creations has been this carbon fiber champagne bottle: "La Bouteille Noire", which has one of the largest sizes in the sector, with a capacity of 15 liters. As for its shape, it is undoubtedly inspired by the Bugatti from which it takes its name.
The bottle case is made of carbon fiber and 150 hours of work and some 314 individual sheets of this material have been used in its manufacture. It also has an automatic thermodynamic cooling cell and opens by pressing a stainless steel button. To ensure its smoothness, it incorporates a system of technical hinges that also release the neck of the bottle.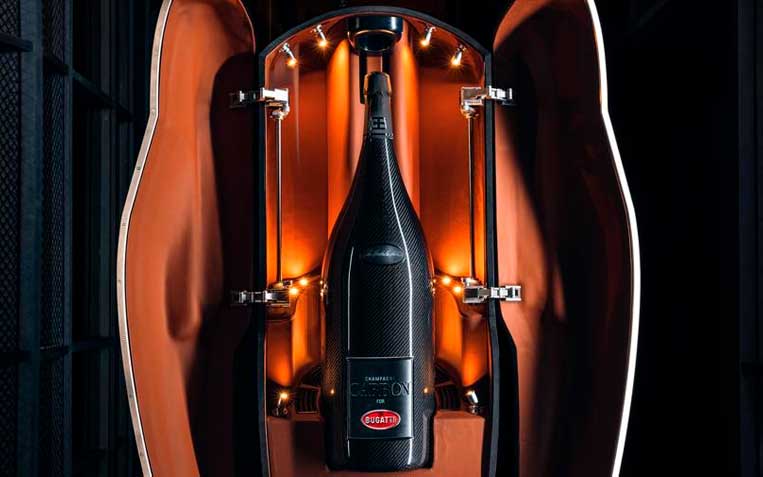 Another creation that bears the signature of IXO and Bugatti is this pool table named Elysium. It is the first billiard table made of this material (carbon fiber) and the first to incorporate the latest technology in industrial electronic control, which makes it possible to offer a unique user experience, never seen before.
Its exclusivity, the quality of the construction materials, the carbon fiber finishes and its self-leveling technology, which serves to level each leg of the table in the event that it is installed on a yacht, compensating for the movement of the sea, is what makes it so special.
Among the accessories that are included in the 250,000 euros price tag is a carbon wall unit to place the clubs and other belongings, a 13-inch touch screen on which the scores of the games are displayed, some carbon blocks with brushed anodized aluminum parts and a carbon LED lamp to be placed on the ceiling, just above the table, as well as a black anodized aluminum box for chalk, a cleaning brush, a USB with images and videos of the manufacturing process and a leather suitcase to carry the balls.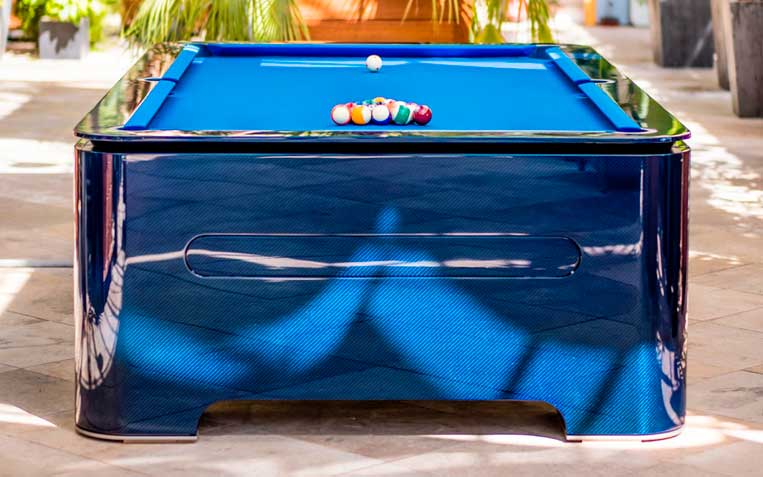 To optimize the manufacturing process of these 100% exclusive objects, IXO counted on our autoclaves for the manufacture of composite from the beginning. The fact that a company like this has taken notice of our family company, with more than 78 years of experience in the manufacture of autoclaves, ovens, steam generators, control systems and all kinds of pressure devices, makes us proud and It also allows you to be part of something extraordinary and lasting over time.